Texnai's Stereo3D HiBox

Stereo3DHD Player for a stereo pair of 720p MPEG2.TS


---




[Photo] 3DHD Projection System sample by using Texnai Stereo3D HiBox

Only the PC-Box allows you to integrate various kind of 3DHD display sytem by using a pair of DLP projectors or a microPol 3D LCD, etc.

Texnai's 3D HiBox is PC-based Stereo3DHD Player that is developed for enjoying 3DHD movies at as lower cost as possible and much easily than ever before not using many expensive equipments such as a pair of professional HD players with a syncronizer or 3D Encoder & Decoder. What you need is only a stereo pair of MPEG2.TS Files to play 3DHD movies. The main program "HDS Player" supports various kind of 3D displays such as Dual Projectors microPol 3D LCD, so when using a pair of DLP projector and a silver screen, you can integrate a 3DHD mini theater and when using a microPol 3D LCD, you can easily integrate a 3DHD Editing system.

[Photo] Texnai Stereo3D HiBox
---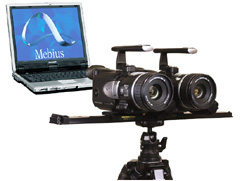 [Main functions of 3D HiBox]
The main software HDS player reads a stereo pair of HDV movies (MPEG2.TS/720p) and outputs various kind of stereoscopic video signals such as Dual Output for a pair of DLP projectors and a H-interleaved video output for microPol 3D LCD.

HDS player also supports a simple 3D movie menu that enables users to select a movie file to play by simple keybord operation.
[Photo right] 3DHD shooting sysytem: Sharp auto3D mebius(Realtime 3D monitor) + 720p HDV camera JVC GR-HD1 x 2


---
[When using the 3D HiBox.......]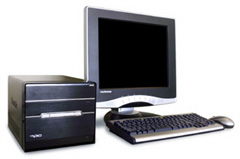 You can integrate a 3D HD display system at much lower cost than ever before.
You can create 3DHD contents very easily without any special 3D encoding process.
[Photo right] 3DHD Editing System: Texnai 3D HiBox(Adobe Premiere Pro. 1.5 & MainConcept Plugin insatalled) + Dimen 17" SXGA microPol 3D LCD.


---
[3D HiBox Application]

3DHD Theater that consists of 3D HiBox, Dula Projector, Silver Screen, Audio System)
3DHD Terminal that consists of 3D HiBox and 17" microPol LCD
3DHD Editor that consists of 3D HiBox, 17" microPol LCD, and Adobe Premiere Pro. 1.5 & MainConcept PluginATexnai JPS Builder & Viewer, Texnai Depth Paint StPaint.
---
[Available Stereoscopic Displays]
Dual Projectors
Vrex micoPol LCD
Auto3D LCD----Sharp, DTI
* Specifications and designs shown in this page are subjects to change without notice.
* Maker's name and product names are registered trade marks of those company in general.

---
Texnai, Inc.
2-1, Udagawa-cho, Shibuya-ku, Tokyo, Japan. Tel:03-3464-6927 Fax:03-3476-2372
e-mail:
info@texnai.co.jp
Copyright:Texnai, Inc.